Networking Roundtable in Entrepreneurship with Michael Serbinis
Exclusive to HCBT Members. Registered HCBT members can reach out to events@hcbt.com to secure their free spot. Not a member yet? Join us today to attend!
The HCBT Roundtable Series
The Hellenic Canadian Board of Trade is institutionalizing the inter-generational success of our community by reducing barriers to industry-specific networking for young, mid-career, and senior professionals through a series of HCBT-member-only roundtable events.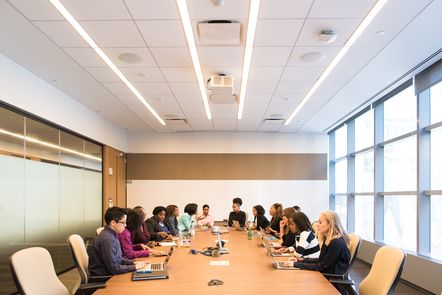 Each roundtable event will host approximately 15 professionals across the entire career stage spectrum - from students to senior executives.
These roundtable events will be private, held in boardrooms, and hosted by a Greek-Canadian senior professional — allowing for meaningful and targeted relationship development within each industry.
Focused on entrepreneurship, our next roundtable will take place on 25 September 2023 and will be hosted by Michael Serbinis, Founder & CEO of League. 

Registered HCBT members can reach out to events@hcbt.com to secure their spot.
Not a member yet? Purchase an annual membership to attend this and all future free events.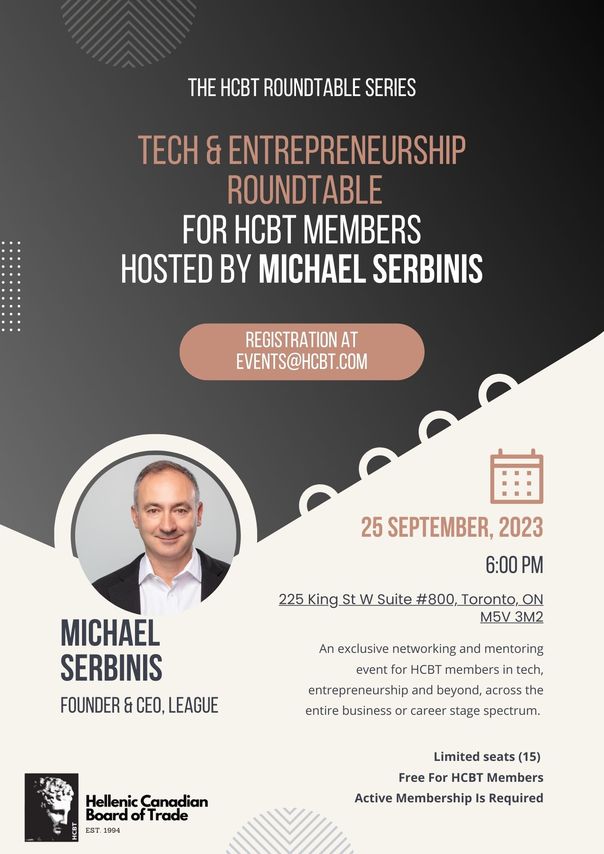 Meet Our Host: Michael Serbinis, Founder & CEO, League
Michael Serbinis founded League in 2014 to transform the healthcare consumer experience. Prior to League, Serbinis had a long and distinguished career as an entrepreneur, rocket scientist, engineer and investor improving how people live, learn and conduct business. 
Most recently, Serbinis was the founder and CEO of digital reading company Kobo, the only global competitor to Amazon's Kindle. Before that, he founded, grew, and sold cloud storage pioneer DocSpace to Critical Path — a messaging service that ran one-third of the world's email. 
Now, as the CEO of League, Serbinis is focused on healthcare. Payers, providers and pharmacy retailers build on the League platform to accelerate their digital transformation and deliver high-engagement, personalized digital experiences. Millions of people use and love solutions powered by League to access, navigate and pay for care.